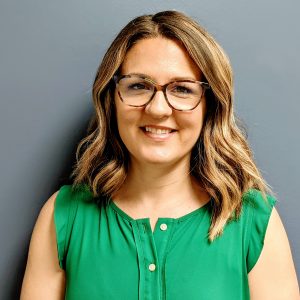 POWER's mission is to help women reclaim their lives from addiction and related emotional health issues and improve the well-being of future generations. For POWER New Day Program Manager Rachael Perlick, every word of that is personal.  
After earning her Master's Degree in Counseling at Slippery Rock University, Rachael spent six years working as a therapist at Gateway Rehab. She discovered her passion for helping people who have substance use disorders. In 2017, intrigued by "the POWER program, working with women, and the supportive trauma environment," Rachael came to POWER as the clinical supervisor of its outpatient program. She knew, "this is what I am supposed to be doing and where I am supposed to be doing this work."
Two years later when she discovered she was expecting her second child, Rachael decided to make another change.
She moved into a part-time position to have more time for her own family. As a therapist for Perinatal Hope, POWER's partnership with Allegheny Health Network to provide addiction treatment to pregnant and post-partum women, she worked with women who held their own children's futures in their hands.
Rachael knows the difference one woman's recovery can make on future generations. She's been in recovery for 16 years.
"My children have not seen me in active addiction, and that is so impactful in their development."
Today, Rachael is the program manager for POWER New Day. She relies on courage and a sense of humor to serve her clients and her colleagues. She also knows that self-care is essential.
"At work, I do the best I can, but when I close that office door, I'm going home to take care of myself and my family." Her husband Jeff, daughter Harper (5) and son Hudson (3) remind her there is always joy to be found.
Rachael is dedicated to the women who come to POWER in the midst of a struggle that was once so real for her. She knows there is confidence and strength to be found in recovery, and she is committed to making life better for future generations. Her heart is open, her personality is real, and her commitment is admirable.
This post was based on a profile written by Karen Harris Brooks. Read the full article here.