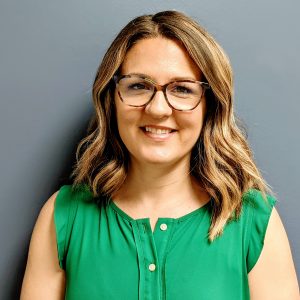 by Karen Harris Brooks
The Program Manager of POWER New Day is an amazing young woman who is passionate about the mission of the Pennsylvania Organization for Women in Early Recovery. When she began her educational quest, Rachael Perlick never planned to work in the field of substance use disorder treatment. Obtaining her Bachelor's degree from Penn State University, the Psychology major continued her graduate studies at Slippery Rock University, majoring in Counseling.
It is evident that positive motivation is a huge part of Rachael's life as she talks about a journey where the "pieces fell into place." While working at Gateway Rehab as a Therapist, it was her compassion and strong desire to help others that brought her to the realization that she was in love with the work she was doing. "Intrigued by the POWER program, working with women, and the supportive trauma environment," Perlick decided to take a step into a "different kind of role." The beginning of a new year in 2017 brought that change to fruition when she accepted the position of Clinical Supervisor of POWER New Day.
The clinician knew "this is what I am supposed to be doing and where I am supposed to be doing this work." Two years later, expecting her second child, the young mother made a conscious decision to "step down" to the part time position as the Perinatal Hope Therapist. By doing so, she was able to spend more time with her young family. Working with pregnant and post-partum women with substance abuse was a challenge, but she knew it placed her in a position to help change the lives of women who hold the future of their children in their own hands. In the 16th year of her own recovery, she acknowledges that POWER's mission plays a huge impact" in the life of Rachael Perlick. "In particular, the mission to decrease the incidence of future generations is personal. My children have not seen me in active addiction," she states. "That is so impactful in their development." That commitment is the foundation of her relationship with her family. It also impacts her role in assisting those in recovery, ultimately affecting the development of ongoing generations.
Therapy requires courage and the PND Manager owns it without hesitation. There is a seriousness about her that embraces a sense of humor that she willingly shares in the midst of a stressful day. "When I am having a difficult day, I can go to certain people without a filter. We do very serious work, but what is more important is to take care of myself. At work, I do the best I can, but when I close that office door, I'm going home to take care of myself and my family. At the end of the day, the genuine part is finding my sense of humor and keeping it." It is the support of her husband Jeff, daughter Harper (5) and son Hudson (3), who remind her of the joy when the light dims.
The changes within her department have also been challenging. However, with sincerity, she gives credit to her hard-working staff and also the support she receives from her direct supervisor. "That's what makes the difference."
It is that belief, confidence and strength within herself, as well as the women she serves, that proves she is a force that will touch ongoing generations of children. That is possible because of her dedication to women going through a struggle that was once so real for her. It is Rachael's appreciation and love for her work that helps women reach for stars they thought they could never touch. Her heart is open, her personality is real, and her commitment is admirable.