"Be open to opportunities that you don't expect. If something comes your way, look at it objectively. A lot of people have a rigid trajectory of what their life should be."
by Karen Harris Brooks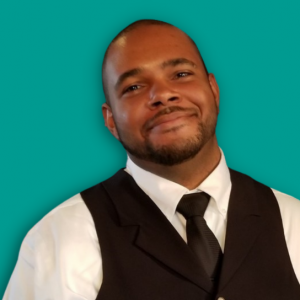 On June 22, 2020, a young man with a huge smile joined the POWER team as a Data Specialist. Donald Clark came with a desire to make a difference in the world of recovery. Within the year, he was promoted to Program Development Manager.
COO Leslie Slagel had no doubt that Don was perfect for the position and felt "it was a natural fit." Admitting this position is a "little intimidating," the new Manager says he is "aware of how much (the previous Program Development Manager) did and how valuable she was." However, the University of Pittsburgh graduate has never been one to be intimidated by taking control of his own difficult decisions.
Donald dropped out of high school and got his GED at 16. Raised in Columbia, Maryland, the young man with an aptitude for computers went on to attend the John Hopkins Computer Institute. His next stop was Howard Community College to earn an associate degree. Next, the computer whiz found himself at home on Pitt's campus, achieving a bachelor's degree in information sciences.
Don's determination led him on a successful path within corporate America, eventually accepting a position with Jiffy Lube. When he realized he had gone as far as he could in the organization, he decided to seek an opportunity that offered personal fulfillment.
Aware of the addiction that existed within his own family, the POWER job posting sparked a deep interest. Admiring the mission, he found himself interested in this organization that focused on women and their needs. With a desire to help others achieve success, he felt this would be a welcome change in his life.
Coming from a primarily male environment, Don states he felt a welcoming atmosphere from day one. "I was amazed at the number of people who stopped to welcome me." When asked about the change to a predominantly female work force, Clark stated with that signature smile, "Feelings are valued here. POWER values how you feel about decisions." Impressed by the actions of POWER's Administration team, he speaks on personal observations, stating that the "Anti-Racism Task Force is listening to the employees and turning it into action. It is one thing to give lip service, but to actually act on it with the heads of the agency gives everyone a voice. It is hard to empathize if you do not understand. I do not expect perfection. No one is perfect. I want to become more involved with the Task Force once things settle down and I become comfortable in my new position." Also impressive to the new manager are the All-Agency Meetings which "make sure we are not overly-stressed or burn out."
When asked if he foresaw any recommended changes, Clark stated he "would like to see more data driven decision-making. We make a lot of decisions on our needs being based around what the county wants. There should be a way to give them what they want and what we want." After a thoughtful pause, he continues, "I think we are capable of building upon what is already here. Since I have started, so much has changed. With Rosa, we have the opportunity to grow and do what's different." He notes that "POWER is never stagnant. I feel I can contribute and grow as the opportunity arises for me to be more hands on. I am not going anywhere. I want to make my impact at POWER."
The warmth, sincerity and dedication of Donald Clark are indications that he is already making a POWER-ful impact!