A Powerful CONVERSATION WITH A POWER-ful EMPLOYEE
by Karen Harris Brooks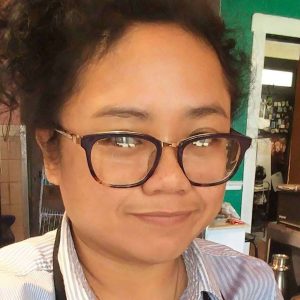 No stranger to the non-profit field, Cheryl Werber admits she found the open position at the Pennsylvania Organization of Women in Early Recovery to be one of particular interest. On March 3, 2008, "CC" accepted the position of Executive Administrative Assistant. Small in stature, but by no means small in her contributions to the growth of the POWER organization, she has witnessed the continuing and progressive evolution of the recovery facility. Modestly, she states that "Non-profit jobs were always the types of jobs that I gravitated to."
That is no surprise to the determined lady who admits that her desire to help others is a gift she inherited from her mother. Werber proudly states that her listening skills enable her to do the work she is doing at POWER. "Being a sounding board, letting people know that someone is listening" is the empathetic gift she brings to the association, as well as her various skills and expertise. "I let people talk through whatever they need to talk through without offering advice." However, without hesitation, she continues with advice she has learned throughout her employment at POWER. "To employees or those entering the doors" of the organization, CC stresses, "The work takes time. You might not see change immediately. If you are involved with a client and they go away from POWER, you may have planted a seed in them to want them to recover. They may not have received that seed if you had not planted it in them. It's like a plant…foster it, water it and give it love and sunshine. It takes time for a plant to sprout. Be patient. Be kind and gentle with yourself."
Getting to know CC is getting to know a remarkably interesting person who has the unique ability to wear many hats. Born in Hawaii to a General Practitioner and a Mechanical Engineer, she grew up as an only child, surrounded by family throughout the islands. Proud of her parents and her Filipino heritage, the small family relocated to Charleston, West Virginia when the young teenager was 13 years old. The capital of West Virginia became CC's home until she graduated high school and moved to the campus of the University of Pittsburgh where she obtained her Bachelor of Arts. Following her graduation from Pitt, the college student continued her studies at Carlow University, pursuing her Master of Science. It was at Carlow that CC became familiar with the writer's group, "Mad Women in the Attic," becoming an active participant after her completed studies. She laughs at herself when she talks about her admiration for poetry and her attempt to write the spoken word. Realizing that poetry was not her forte,' the devoted essayist found her niche in the world of creative writing.
Her love of writing, a gift she embraced at the young age of eight, is brought to life within the pages of Cheryl's 90 personal journals. Those journals, undoubtedly, allow her to reflect on her own transformation and growth over the years. Travelling back in time through the chronicles of her existence, she states with a touch of humor, "Many of my memoirs or journal writings involve food and family." However, as she continues, the fascination of her talent is dominated by her ability to also capture historical facts occurring throughout her circle of life. From the United States invasion of Iraq through the challenge of teenage years to the current pandemic, the confident POWER employee is able to stand on her truth as a witness of her own maturity.
Married for over 16 years, CC and her husband, Steve, not only share a love for animals, but enjoy a renewed interest in the culinary arts. YouTube tv cooking shows sparked an interest that has the couple experimenting with different recipes, including CC's desire to learn new dishes from her own culture.
Cheryl Werber is direct, serious, and extremely powerful in her thoughts and feelings. When asked about the racial hatred so prevalent in our society, the Anti-Racism Task Force member, states "There are too many things that have been exposed to push back into a box. Everyone needs to start confronting what's going on in the world, with themselves, and how they deal with all this injustice. You can't turn a blind eye and still think you are a good human. We can't go on where the world treats people of different skin colors differently. It's going to be uncomfortable, but you are going to have to sit with yourself and sit in that uncomfortableness. It's going to be hard work. I am on this committee to help bring the change. This change does not happen overnight. There is a lot of stuff we have to process, and I am in it for the long haul."
CC is also committed to assisting Rosa Davis, Chief Executive Officer. "I love working for Rosa. I have worked with her for 13 years. She is a very empathetic boss and very easy to work for." One can detect the admiration she feels as she states without reservation, "Rosa has done an amazing job in the time I have been here. POWER is growing by leaps and bounds. We are blessed to have her as CEO. Without her drive and vision, we would be a different organization."
And there is no doubt that POWER is blessed to have CC. She does not make a lot of noise, but her impact is powerful.