by POWER Connection Mentor Lisa Childers
I met Tammy in 2017 when she was referred to POWER Connection. She had recently spent time in jail and her three children were in foster care. Tammy was chronically homeless, her mental health was out of control, and she was looking at having her parental rights terminated.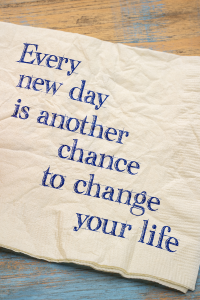 I worked with Tammy for approximately 2 years, even while she continued to struggle with active addiction. We set goals for getting treatment, stabilizing her mental health, finding safe and affordable housing, and reconnecting her to the 12-step program; but she had many early setbacks. She lost the housing we'd helped her secure and was inconsistent with attendance for mental health treatment.
Finally, Tammy agreed to enter a residential program. When I arrived to pick her up, she had clearly been using all night and I had to take her by the hand to the intake. Tammy went on to finish the program, and we found her safe housing. Shortly after moving into her new apartment, she was granted unsupervised overnight visits with the children. She was going to NA meetings and appeared to be doing well.
Then, Tammy decided to take in her homeless brother, who was in active addiction. Not long after, Tammy relapsed.
As hard as she tried, she could not get it back together. It did not take long before she lost her apartment and was back out on the streets. In the months that followed, Tammy admitted herself to either psych or rehab a couple times, but homelessness and poor choices kept her stuck in the cycle of relapse. Eventually, Tammy was arrested and sent back to jail for 6 months.
I was required to discharge her from our program, but I encouraged her to call POWER when she was released.
In June of 2019, Tammy called me from a rehab facility. After discharge, she moved into a ¾ house and I re-enrolled her into POWER Connection. She hadn't been actively using for almost a year.
This was a changed Tammy; those recovery seeds had taken root. Her mental health was stable and she found support in the rooms of NA again. I could hear the change in her when she talked. Even when Tammy's parental rights were terminated and the adoptive Family would only agree to bi-annual visits and limited phone calls on holidays and birthdays, a heartbroken Tammy was determined to maintain her recovery.
We had many conversations about how she would cope with the loss of her children. She struggled with shame, guilt and acceptance of losing them. Sadly, after a particularly difficult call with her distraught oldest daughter who was struggling to accept the adoption, Tammy relapsed.
But this time was different. She didn't continue using and instead reached out for help after just 2 days. She went back to inpatient for a week, saying that "I need to work on building my own supports and learn how to handle getting through these phone calls and visits before I go home."
"I need to stay clean for my kids, I need to be there to help them adjust, and when they get older and come looking for me, they need to find me clean and sober."
With her new insight, Tammy moved on to a ¾ house and continued to work on herself and her recovery. As her Mentor, I watered and nurtured those tender recovery sprouts and worked on coping skills with her. Tammy remained at the ¾ house for a little over 6 months before returning to her new home.
Today, Tammy is in a healthy stable relationship, lives in a beautiful home, attends NA meetings 6 x per week, and has a network of close friends, including a tight knit group of women in long-term recovery. She has Ladies night and couples nights weekly. She has a home group and a sponsor and is actively working the 12 steps for a second time. Tammy is happy, she is a rock for her children, and has learned "the importance of having a plan" to stay supported around her calls and her visits. She has set firmer boundaries with her family and graduated to aftercare and individual therapy. I am currently working with Tammy's service coordinator to refer her to a Certified Peer Specialist who will continue to support her. We are currently working on a 90-day plan for a successful discharge from POWER Connection.
When asked what POWER and recovery have given her and about her life now, Tammy said, "My self-respect back. I am honest now and people can trust me. I have finally been able to get to a place where I find joy when I hear about the wonderful life my kids are living and gratitude toward their adoptive mother for giving them what I could not for so long. Even though I only see them twice a year, she sends me photos all the time; we get to talk almost every month. They know I am Mom, they know I love them and they know I am OK. When they get old enough to decide for themselves to have a relationship with me or be with me, I WILL be clean, I WILL be ready. However, if they grow up and decide that is not what they want, I will be ok with that too. I am never going backwards. I love my life now."