In honor of Black History Month, we're celebrating a few the Black and African-American women making history right here at POWER.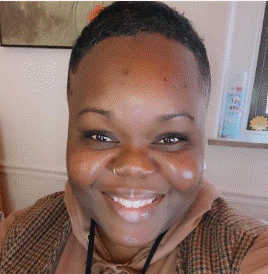 Diane Dixon
At POWER since 2022
Starting position: Assessment Specialist
Current position: Therapist
Diane Dixon came to POWER on Valentine's Day, 2022. Originally, hired to be an Assessment Specialist in Central Intake she transferred to the POWER New Day as a Therapist. Diane graduated from Carlow University from the Professional Counseling program in 2014.
What Diane's Colleagues Say
Diane has extensive experience and professionalism.  Her demeanor is always comforting and inviting and she truly epitomizes the client centered care perspective that POWER prioritizes.  She is able to quickly build rapport with clients.  She uses insight, education, and experience to provide a well-rounded assessment and maintain a very calm and stabilizing atmosphere for the clients. Given that many of our clients are coming from traumatic experiences or from institutions where client comfort was not necessarily a priority, her presentation, professionalism, and personality are very welcome.  She also has a killer sense of humor, which is always something I truly enjoy!
-Kris Manning (Clinical Supervisor of POWER House)
Diane's real laid back and chill. She's my yin to her yang and is a straight shooter. You always know what Diane is thinking and feeling.
-Justina Jones (POWER New Day Therapist and former classmate)
Diane is up for anything. She has a great sense of humor. She connects easily with the clients. We are so lucky she joined POWER New Day!
-Alexa Schwartz (POWER New Day Lead Clinician)
Who Inspires Diane
Diane says that the clients have taught her a lot and says that her mother is her role model. Never giving up is not an option her mother ever considered, and Diane admires her mother's no excuses mentality.