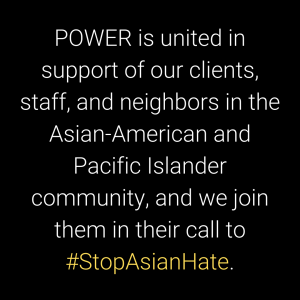 POWER is united in support of our clients, staff, and neighbors in the Asian-American and Pacific Islander community, and we join them in their call to #StopAsianHate.
On Tuesday, March 16, when eight people were killed during three targeted shootings at massage parlors in the Atlanta area. Six of the people killed were of Asian descent and two were white. Seven were women.
While police have not officially linked the killings to racism, there is no doubt that these murders combined with the escalation of harassment over the last year has left Asian and Pacific Islander communities feeling more vulnerable than ever.
In June of 2020, POWER issued statements of support for our Black staff and colleagues, clients, volunteers, supporters, and the entire Black community. We mourned the tragic loss of life and acknowledged the collective trauma and grief of the Black community.
Today, we reach out to show support for another community suffering from their own unique trauma. The circumstances may be different, but they are symptoms of the same disease that is White Supremacy. And the need actively work to dismantle racism remains the same.
"If you have come here to help me you are wasting your time, but if you have come because your liberation is bound up with mine, then let us work together."

Lilla Watson