by Karen Brooks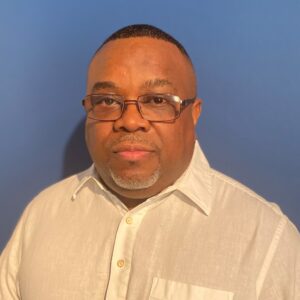 Keith C. Gardner did not go looking for POWER. However, his path led him to 907 West Street via a colleague who thought his education and experience would be a great fit. After researching the company, the Thiel graduate is pleased with his career-changing decision to join the offices located at the corner of Penn and West.
Intrigued by the Administrative staff, the new Chief Financial Officer was, in no way, intimidated by the female-dominated organization. Proud of the fact that women have always been an integral part of his true friendships, he had "no qualms or hesitations about joining the POWER team. I know my limitations and I know that women get stuff done," he states with a confidence that appears to be rooted in his foundation. Gardner possesses a great sense of humor and a heart for laughter. Along with that strong personality trait, he also brings a bold frankness, knowledge, and experience to the office of Finance.
The CFO found the employees of POWER to be extremely welcoming. He does admit that the career change came at "a good time for me because I was actually thinking of updating my resume. At POWER, I feel like I am working for an organization that really cares. It's not fake," he states without hesitation. "POWER is a well-respected agency that genuinely cares about its people. They worry about you as a person first. It's not only about getting the job done." The respect Keith has for the women of the Admin team, as well as the employees, also extends to the Board of Directors, whom he highly regards. With sincerity, he speaks of the success of the foundation that fights to help others, noting that those achievements extend far beyond the walls of the building. In a protective tone that is laced with sincerity, he proudly discusses the "stellar reputation of the organization and the respect others have, not only for POWER, but for Rosa." It is because of his admiration for the CEO that he states his purpose at POWER is "to do a good job."
"Prideful in what I do," Gardner goes on to say that he is "anxious to become an asset to an organization that is well on its way." Open to change, he is determined "to learn and master my job. When I ask a question, I want to gain knowledge from others because I don't know everything. I am still learning and I want to master it and make improvements where improvements need to be. I don't believe in doing something because we've always done it this way."
Non-profits are not foreign to Keith. His dossier includes Auberle and Alpha House. But he has also been exposed to "for-profit companies. I enjoy non-profit because you feel like you are giving back to society. It feels good that you are doing something bigger than yourself."
The Lincoln-Lemington native is no stranger to the pain caused by addiction. His desire to be a part of a company that works to make things better gives him an insight and appreciation into the in-depth work of the organization. The grief of losing a sister to the disease permits one to enter that painful world and understand that "At the end of the day, it is a disease…a genuine disease. It's deeper than what we think," he states in a strong, but insightful tone." Gardner speaks of the Mentors and credits the women and men who have, at one time, walked that road and now spend their lives reaching back to help others find the meaningful life that exists outside the turmoil.
Because of the profound efforts of POWER to make the recovery world a better place for both employees and clients, the new member of the Antiracism Task Force feels the organization is making strides to confront society's systemic racist views within the recovery community. As a Black man who has personally known and experienced the restrictions of racism, the CFO knew he was stepping into a position of unchartered territory in his new position. However, his experience and positivity, along with his gift of listening, affords him the ability to participate in the challenge to move forward. It is a slow process, but Gardner is proud to work with a group that is willing to accept the work. Appreciative of the fact that the team undertakes that effort seriously, he does not pause when he states, "We need to continue to move in that direction. We need to listen and grow on what has been started. I am prideful in who I am as a person and I am prideful in doing a good job for the company, the Administrative Team and the Task Force."
The Penn Hills resident is not only proud of the contributions he wants to make at POWER, but is extremely proud of his two beautiful daughters, Maya, age 22, and Morgan, age 16. The avid sports enthusiast loves to work out, loves to cook and definitely knows his way around the kitchen.
The POWER Staff is proud of the new addition of Keith C. Gardner, a man who is determined to make inroads within an organization where the road of recovery leads to success.