Honorary Chair - David Morehouse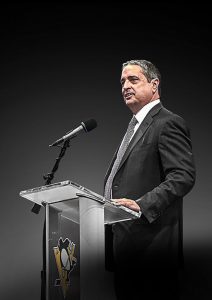 David Morehouse serves as the Chief Executive Officer and President of the Pittsburgh Penguins, overseeing all aspects of the team's operation. He joined the team as a consultant on the new arena project in 2004 and was named team President in April 2007. He was given the additional responsibilities of Chief Executive Officer just as the team's new arena was opening in August 2010. During his tenure, the Penguins have won three Stanley Cups, reached the conference finals five times and sold out every game for 13-plus seasons.
Mr. Morehouse joined the Penguins following a career in national politics, holding positions in the White House, the Pentagon, Capitol Hill, and key roles in two Presidential campaigns. He attended the Community College of Allegheny County and Duquesne University and received a master's degree in Public Administration from Harvard University's John F. Kennedy School of Government. He serves on the board of directors of Allegheny Technologies Incorporated (ATI) and is a trustee of the University of Pittsburgh and the Allegheny Conference.
Babst Calland
Jan Bamford and Ron Tiberio
Amber and Bryan Battaglia
Paul E. Block, CPA
Emmie Calland
Fragasso Financial Advisors
Gentile, Horoho & Avalli, PC
Giant Eagle
H2R CPA
ICON Development
Lab|8 Designs
Tom and Mona Murphy
Point Legal LLC
Lori and Lou Plung
Kristi Rogers and Jody Schurman
Shadyside Presbyterian Church
John Wilds, PhD