In honor of Black History Month, we're celebrating a few the Black and African-American women making history right here at POWER. Cynthia Wright-Jones has been helping women recover from addiction for over 19 years.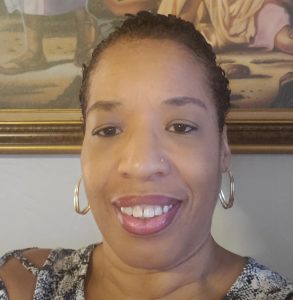 Cynthia Wright-Jones
At POWER since 2003
Starting position: Mentor
Current position: Central Intake Specialist
Cynthia Wright-Jones is a strong advocate for POWER's Mission and is proud to have been able to grow with POWER throughout her 19 years of ongoing employment. As a Mentor and Mentor Trainer, she provided guidance and support to her clients and POWER colleagues. Now, as a Central Intake Specialist, she is the voice of comfort when people struggling with addiction call for help.
What Cynthia's Colleagues Say
When faced with challenges, Lisa Childers asks herself, "What would Cynthia do?"
"Cynthia has always been a great person to bounce ideas off of, is a great resource, and her positive interactions with clients appear effortless."
Cynthia taught Lisa to look for the 'Mentoring moment', the best time to provide feedback to clients, and how to do so in a positive way.
"Cynthia has a way with clients that makes them immediately receptive. Cynthia is always calm and inspiring in her interactions. Watching her client interactions made me want to be like her as a Mentor. Cynthia is dedicated to POWER and the clients we serve."
Who Inspires Cynthia
Her daughter Shakina is an inspiration because she has accomplished so much over her lifetime thus far: obtained a Master's Degree, bought a home, and is a great mother to twins. Shakina is supportive of Cynthia in everything she does and is always willing to help those in need. Cynthia says she and her daughter have always had a close relationship, even during difficult times.
Cynthia is also inspired by POWER CEO Rosa because she is approachable, supportive to all, has an open door policy, and truly listens to colleagues.