Interviewed and written by Karen Harris Brooks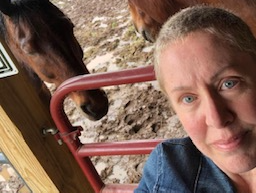 Ann Hartman loves to "see the light in their eyes."
The soft-spoken POWER New Day therapist describes herself as "introverted." Beginning her interview, she quietly states, "I'm not good at this." And, while the nature of her personality is reserved, she also emits the confidence of a quiet storm.
Ann graduated with a Bachelor's degree from the University of Pittsburgh before obtaining her Masters from Indiana University of Pennsylvania. She then worked at various agencies throughout the years with both men and women. "Women," she states with a high degree of compassion, "get lost in the ability to speak and be heard among men."
POWER's gender-specific program and concentration on the issues women face intrigued the warm, no-nonsense counselor. She knew the organization would be a great fit and a place where she could make a difference.
Admitting that her "non-judgmental approach" and desire to "connect with another human being" is crucial, her personal empathy and knowledge leads her to "get to know the client, their story, experience, and their hopes." When asked about the difficult task of maintaining professional relationships while establishing that connection, Ann emphasizes the need to "always maintain your professionalism and know where the line is."
She credits "good supervision and training, as well as open conversations and managing boundaries" within the therapeutic relationship. Without hesitation, she says, "I know personally and professionally what my ethics are. It is different in a women's program because you feel emotionally closer to someone because of their experience and length of therapy. But you recognize the signs and red flags."
Ann is a loving mother and proud grandmother of four beautiful granddaughters, and her caring and compassion extend to the clients with whom she works so diligently. She values the role she plays in "helping someone get their life together. You see the difference in how they feel about themselves and how they grow."
Ann shares her home with five cats who bring her a sense of calm in a field where self-care is required. On weekends, she volunteers at a horse rescue stable where she takes the time to feed and care for the beautiful animals that she has come to love. She describes working with the horses as a "wonderful experience." It is a place of self-care while developing a level of trust and comfort for the rescued animals in need of the loving touch of a human being.
Ann is also a gifted jewelry creator, using materials she finds on her own explorations of nature into works of art that include necklaces, rings, and bracelets. "I love nature, and this is something we all need to connect with in our lives. We are a part of nature and we go back to nature when we die. It is important to me to bring elements of nature into my life and share it with others. There is beauty in everything."
Her ability to see the beauty in small things defines the quiet, but powerful impact Ann Hartman is making within POWER and in the lives of women with addiction and related emotional health issues. Her impact on others in changing lives blossoms one into a beautiful sunflower when the storm is over.