Your registration for POWER Promises 2021 – A Night of Hope is complete. A confirmation has been sent to your email. We look forward to celebrating the POWER of recovery with you on Wednesday, April 21.
Add to Calendar: Google | Outlook or Apple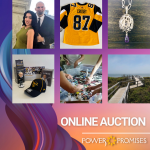 Items include Penguins gear, coffee with the Fettermans, jewelry, travel, art, and so much more! All purchases benefit women in early recovery.
Invite a friend and help #EndTheStigma of addiction
Babst Calland
Jan Bamford and Ron Tiberio
Amber and Bryan Battaglia
Paul E. Block, CPA
Emmie Calland
Fragasso Financial Advisors
Gentile, Horoho & Avalli, PC
Giant Eagle
H2R CPA
ICON Development
Lab|8 Designs
Tom and Mona Murphy
Point Legal LLC
Lori and Lou Plung
Kristi Rogers and Jody Schurman
Shadyside Presbyterian Church
John Wilds, PhD

Thank you for your support!